Book Now
My Bike Race Adventure at Unbound Gravel– and Why I Rented a Roameo Campervan
I recently participated in the famous annual Unbound Gravel bike race in Emporia, Kansas. This year was my first time participating, so of course I wanted to make sure that all my accommodations were taken care of. I wasn't sure if I wanted to stay in a hotel or rent a campervan but after much research, I decided to go with the latter option. Here are my top five reasons why.


Comfort & Mobility – You can't beat the convenience of having your own vehicle and home base during a bike race. With a campervan rental, you get the comforts of home—like a bed, shower, and kitchenette—while still having the mobility to travel around and explore all that the surrounding area has to offer. Plus, you don't have to worry about finding hotels or other accommodations along your route that can accommodate your needs as a cyclist. Roameo vans offered both indoor and outdoor hot showers, in addition to temperature control, so I knew I would be comfortable.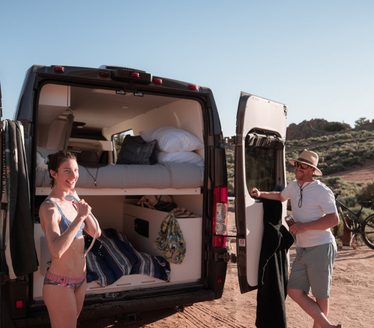 Easy Accessibility – One of the best things about renting a campervan instead of staying in hotels is that it provides easy access to wherever you need it most: the starting line! I was able to book campsites much closer than any hotel, allowing me to get that extra rest in the morning. As an added benefit, my Roameo is small enough to fit in a regular parking spot, and is built for off-grid use, so I had many options for camping spots.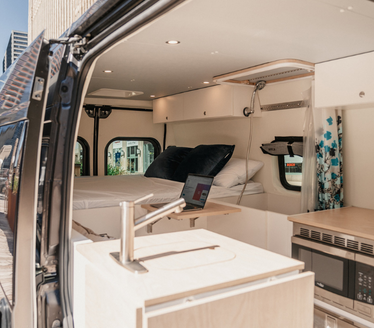 Cost-Effective – Renting a campervan is surprisingly cost-effective when compared to the cost of renting multiple hotel rooms and a car. You also save on food costs since you can prepare meals at home instead of eating out every night. My Roameo van was equipped with a microwave, fridge, and sink to allow for on-the-go meals. Grabbing a cold drink from the fridge or making a hot cup of coffee in the morning made my Roameo feel like home.
Privacy & Time – When you rent a campervan, it gives you more privacy than staying in a hotel (no noisy neighbors!). It also gives you more time to rest and recuperate between events as opposed to having to rush off after each event ends in order to check into another hotel room for the night. The Roameo van came equipped with window shades and curtains too, for added privacy.
Flexibility – Nothing quite matches the freedom of being on a bike, but driving a home on wheels feels close. After meeting friends during my race, it was easy to extend my trip and explore new trails nearby. With just a quick message, my Roameo campervan was mine for a few more days of roaming and memory making.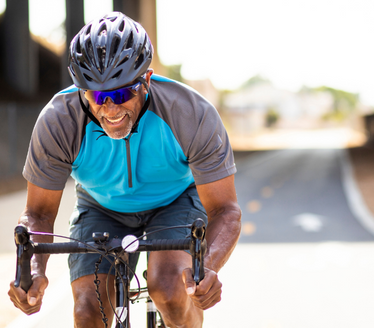 Conclusion: All things considered, renting a campervan for my bike race adventure was definitely the right choice for me! Not only was it convenient and cost-effective but it also provided me with plenty of comfort and privacy during what could have been an otherwise stressful week full of intense competition! If you ever find yourself planning a similar trip, then I highly recommend considering a Roameo campervan rental — it will undoubtedly make your journey much smoother!